BiCore Rugged: Rexton's Toughest BTE
New BTEs are coming to the BiCore platform. Rugged devices claim ever-increasing resistance.
Thicker housing, better insulated earpiece with reinforced insertion fitting, charging contacts equipped with seals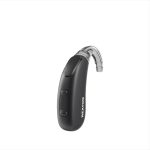 earbuds, new microphone protection and waterproof glue on all parting lines… It is thanks to these improvements that the manufacturer today presents the BTE BiCore Rugged as "the most rugged behind-the-ear Rexton has ever produced" . Embedding the technology and features of the latest platform, these devices display resistance to water (immersion up to 2 meters for 30 minutes), shock (drop from 2 meters and protection against scratches level 2H), but also to salts and the acidity of perspiration, to soap and cosmetic products. Rechargeable, it provides up to 39 hours of battery life, in a size close to that of a standard Ric.
"We want to free the minds of end-users about possible incidents in daily life that could damage their hearing aids and thus remove their fears about the possible loss of time and money to repair them, says Michelle Reyneke, Rexton Global Brand Director. That's why we designed Rugged as an ultra-durable device. It is all-terrain and adapts to all situations. »
#BiCore #Rugged #Rextons #Toughest #BTE