Hades 2, Star Wars, Death Stranding 2: the announcements to remember from The Game Awards 2022
The Game Awards ceremony, broadcast on the night of December 8 to 9, revealed some great announcements.
The Game Awards ceremony is not just an award ceremony: it is above all an opportunity to take stock of the games of tomorrow. Trailers, revelations, gameplay sequences… For long minutes, we are amazed.
What announcements have we retained from the 2022 edition? We take stock.
The big announcements from The Game Awards 2022
Hades II!!!
This one, no one saw coming. huge success, underworld will be entitled to a sequel, soberly baptized Hades II. Zagreus will give way to a heroine: the Princess of the Underworld herself. In short, Supergiant Games will once again revisit Greek mythology, with its breathtaking artistic direction. And it goes without saying that we can't wait. Hades II will go through the early access box, in 2023.
Diablo IV will be available in June 2023
You can finally put a cross in your diary. Blizzard Entertainment has formalized the release date of Diablo IV. The action-RPG, which promises to be ultra dark, will be available on June 6, 2023.
Dead Stranding 2 formalized
In recent weeks, Hideo Kojima had fun teasing his next game. It was finally made official during The Game Awards, and it will be Death Stranding 2. The trailer focuses on the character played by actress Léa Seydoux (nicknamed Fragile), but there's also an appearance from Norman Reedus — hero of the first Death Stranding. Elle Fanning, Shioli Kutsuna and Troy Barker are also confirmed in the cast.
Of course, the trailer is… cryptic — a will of Hideo Kojima, who rewrote the script during the pandemic.
Ken Levine's new game is called Judas
We now know what project Ken Levine, creator of the BioShock, is working on. His future game is called Judasand the trailer is already intriguing. It is described as a first-person narrative game, in which you will have to forge or destroy alliances with your worst enemies. It will be released on PS5, Xbox Series S, Xbox Series X and PC.
Star Wars Jedi: Survivor is out March 2023
Electronic Arts had planned to unveil Star Wars Jedi: Survivor during the show. Not content with presenting gameplay, the American publisher has confirmed the release date. It will be for March 17 on PS5, Xbox Series S, Xbox Series X and PC. Yes, it's soon!
A demo for Forspoken
Expected for January 24, the prophesied will be one of the first highlights of 2023. Do you have any doubts about it? Well you can now download a demo on PlayStation 5.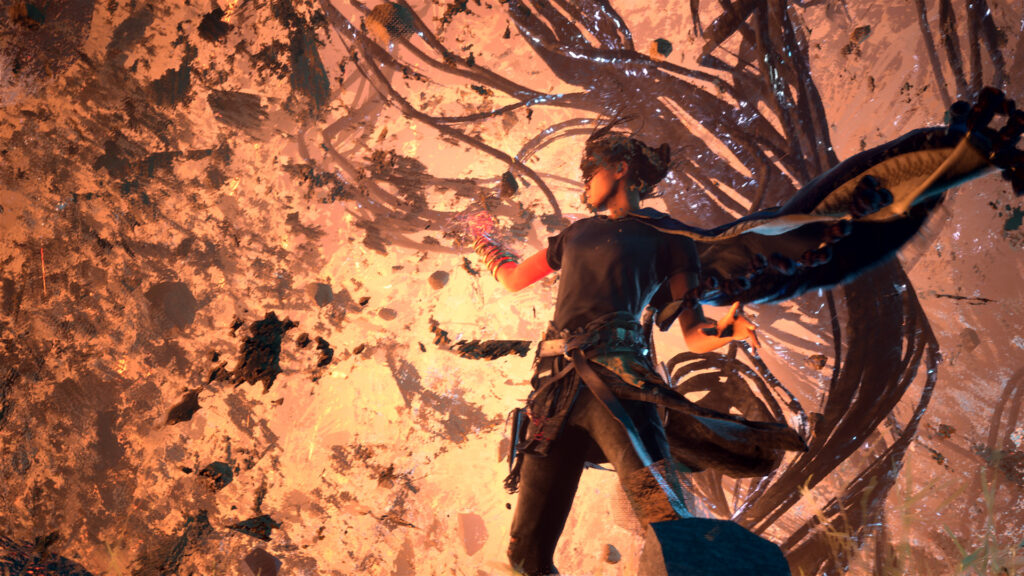 And DLC for Horizon Forbidden West
Failing to have obtained many prizes, Forbidden Horizon West will once again make players dream with its pretty graphics thanks to an extension called Burning Shores. Aloy will travel to Los Angeles and the trailer shows an impressive creature emerging from the Hollywood logo… Release confirmed for April 19, 2023.
This Warhammer 40,000 game is a dream
Will we finally be entitled to a decent Warhammer 40,000 game? In any case, the first trailer for Warhammer 40,000: Space Marine 2published by Focus Home Interactive and developed by Saber Interactive, makes you want to. The launch is scheduled for 2023 on PS5, Xbox Series S, Xbox Series S and PC.
Banishers: Ghosts of New Eden, or the new Don't Nod game
Don't Nod Entertainment (Life is Strange) has unveiled its new game, published by Focus Home Interactive – a 100% French production. baptized Banishers: Ghosts of New Edenit will fit into the action RPG genre. There will be two playable characters and, knowing the background of the studio, there is bound to be an emphasis on storytelling. The universe is very, very promising.
And FromSoftware's next game is…
… Armored Core VI: Fires of the Rubicon. The Japanese studio behind the Dark Souls trilogy and elderberry ring will return to its robot battles. The launch is expected for 2023, on PS4, PS5, Xbox One, Xbox Series S, Xbox Series X and PC.
#Hades #Star #Wars #Death #Stranding #announcements #remember #Game #Awards