Moonrider. One of the best Run and Sword of the decade
Vengeful Guardian: Moonrider, published by The Arcade Crew and developed by JoyMasher, was tested on PC.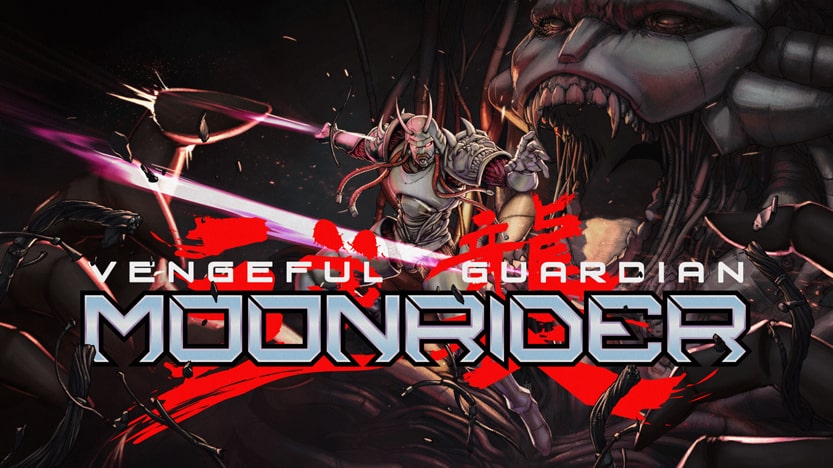 Vengeful Guardian: Moonrider
Vengeful Guardian: Moonrider is a 16-bit retro game developed by the JoyMasher studio (already behind the excellent Blazing Chrome) and published by The Arcade Crew.
Another retro game? olala but only that comes out!!!
No, that's not all that comes out, but for arcade fans like me, it's better to have a good arcade game of yesteryear with its "so primary" graphics rather than a generic open world with realistic photo graphics where 60 % of the gameplay consists of farming items to craft ammunition.
Those who disagree with me, probably won't be convinced by Vengeful Guardian: Moonrider. For the others, there remains an unanswered question. Is the game good after all? Answer, with Vengeful Guardian: Moonrider review.
Vengeful Guardian: Moonrider is quite simply one of the coolest games to kick off 2023, and one of the best Run and Sword of the decade
The Story of Vengeful Guardian: Moonrider
You play Moonrider, a cybernetic ninja who refuses to be subjugated to his mission: to be only a tool in the service of a totalitarian state. Instead, you found that spark of humanity in your little robotic heart and decided to wage war on your creators instead.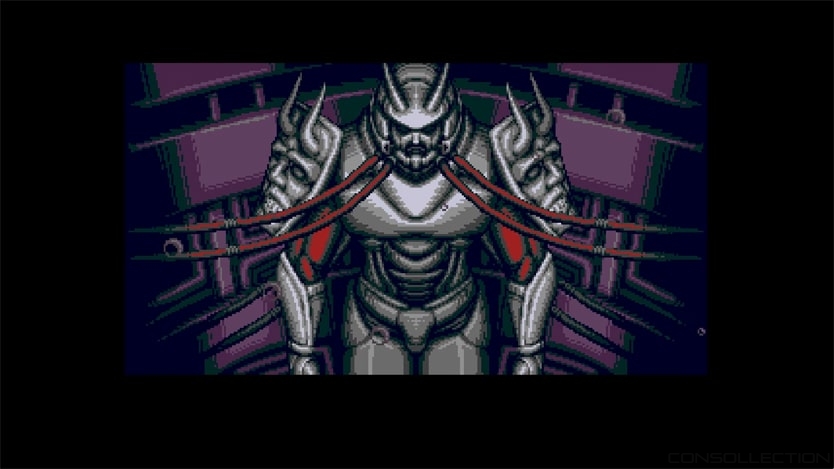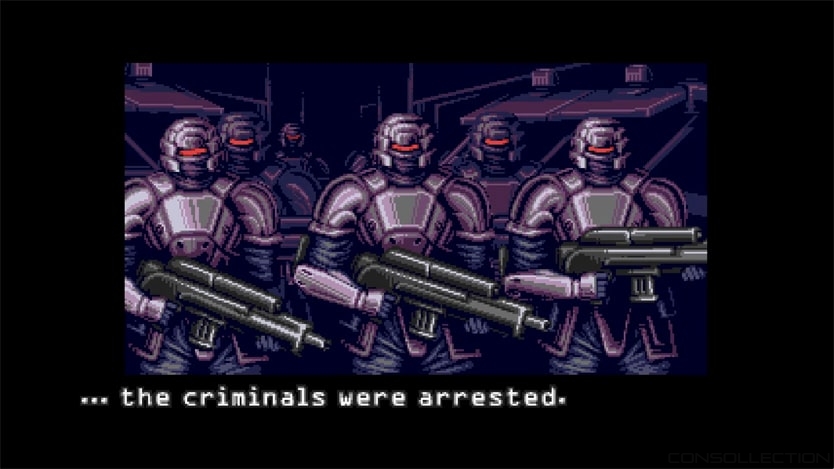 After going through the opening level (I also recommend going through the excellent tutorial section), you'll have a choice of six additional levels to tackle in whatever order suits you, followed by two final levels to finish the game. Each stage houses its own boss and beating each one will grant you a new ability. Very similar to Mega Man in many ways, then. And as in a Mega Man if we can't say that there is no scenario, to say that this is the interest of the game would be a bit exaggerated…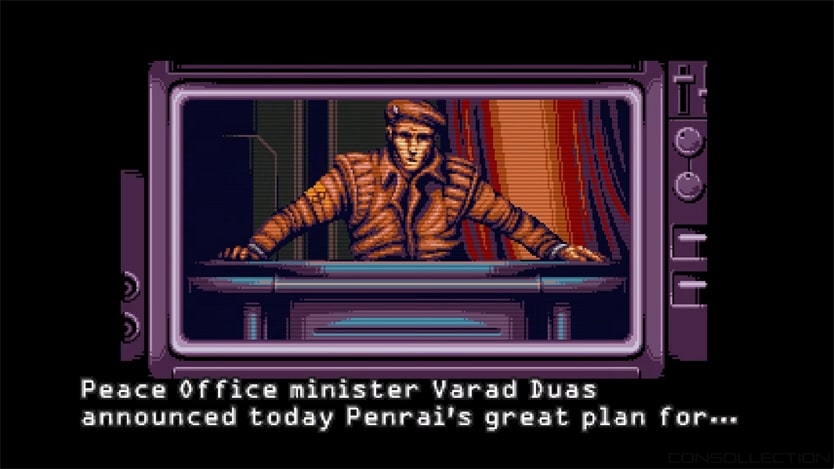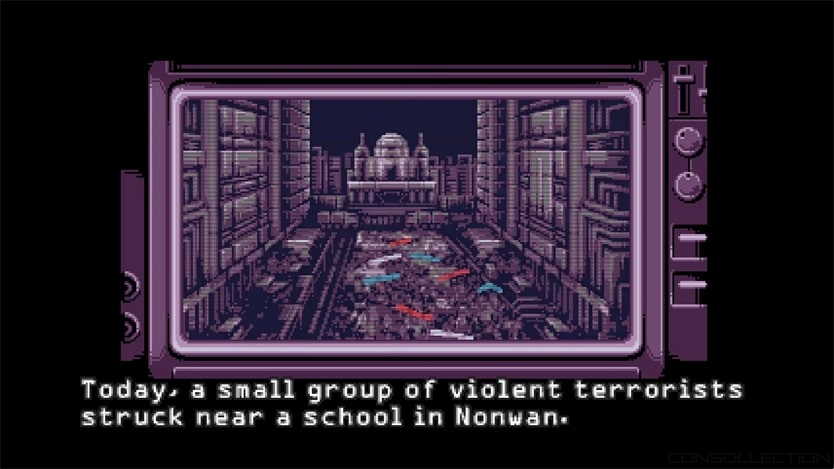 game system
18/20
If you have a bit of a bottle, you will easily notice the inspirations of Vengeful Guardian: Moonrider: there is a harmonious blend of several Run and Sword. I don't know if this term exists, probably not, but there is no equivalent to Run and Gun (Metal Slug etc).
shinobi, ghost dancer, Walkeror the recent and brilliant The messenger… these games are generally called action platformers. I find it a bit too generic and it includes so many games like Sonic, Decap Attack or shinobi to stay on the universe of the Megadrive. For my part, I find that there is a fairly codified genre in its own right which is the equivalent of Run and Gun, but in hand-to-hand combat. I decide to baptize them the Run and Sword.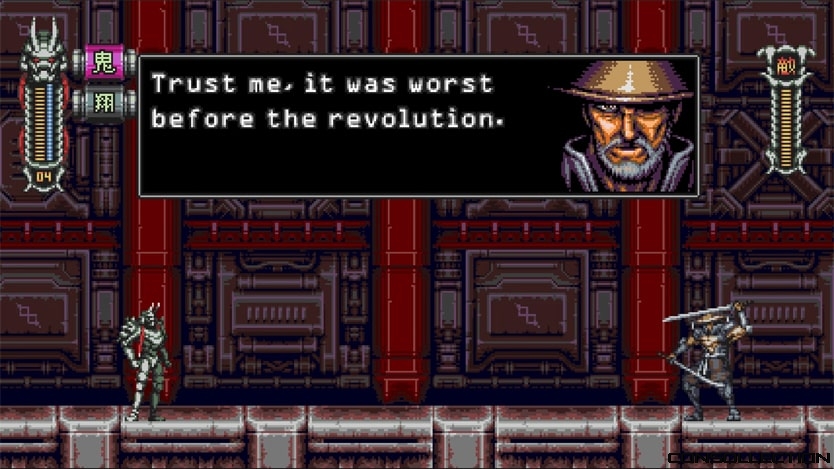 Vengeful Guardian: Moonrider is therefore a very related run and sword with excellent titles such as of course shinobibut also Walkerespecially for its futuristic and violent vibe. It has from these games a very pleasant handling and very simple to take in hand. With the flick of the trigger, Moonrider rushes into a run, delivering an attack powerful enough to take down enemies in an instant if executed with the right timing, all in a jubilant spray of blood. While walking or stationary, you'll do a series of basic sword attacks that allow for simple yet quick combos. Add to that a stab attack (after a jump), and the game will allow you with this panel of simplistic blows to achieve a series of combos provided you master the timing.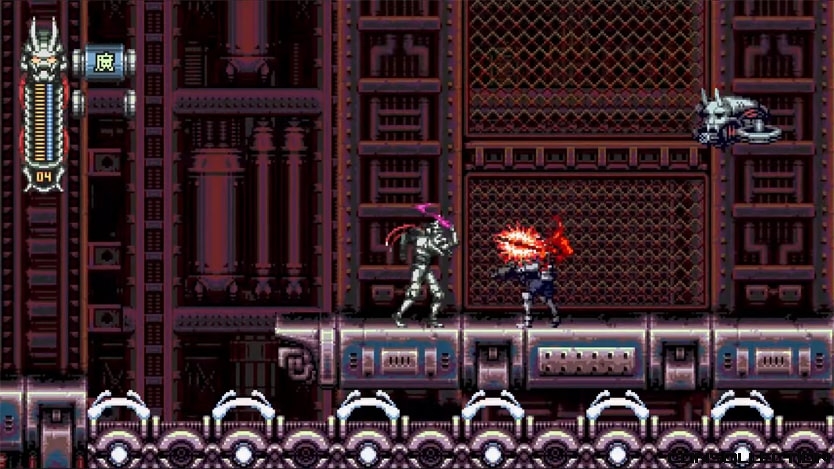 Additionally, you have special attacks that are slightly more powerful, but have limited availability. Each use of your special attack will deplete a blue gauge displayed in your little HUB, which you'll need to replenish by picking up items as you make your way through the environment.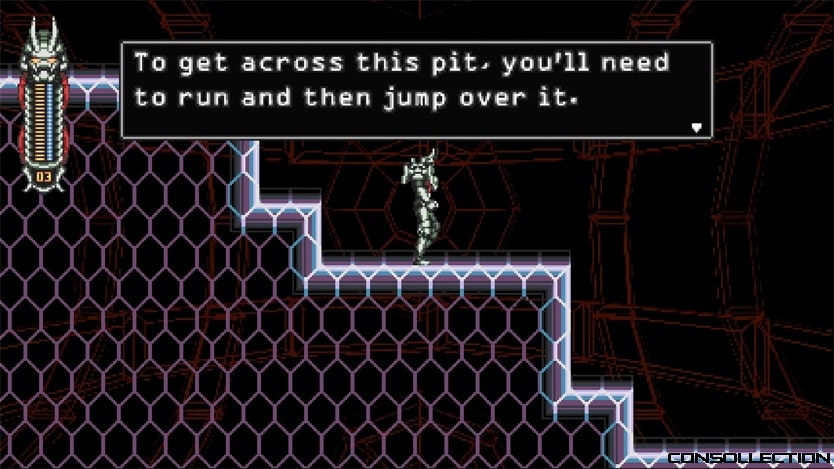 Small originality of the walljump in this game, you are not going to cling to the wall for a short time when you touch it while waiting for you to press jump again to bounce on it, as in all games since Mario, but you will have to press the jump to hook and bounce. This very small nuance, in the moments of stress and precision that the game requires is disconcerting at first.
There's quite a bit of variety in the gameplay, some more action scenes, others more platforming, others finally in motorcycle racing mode like in a good old Road Rash.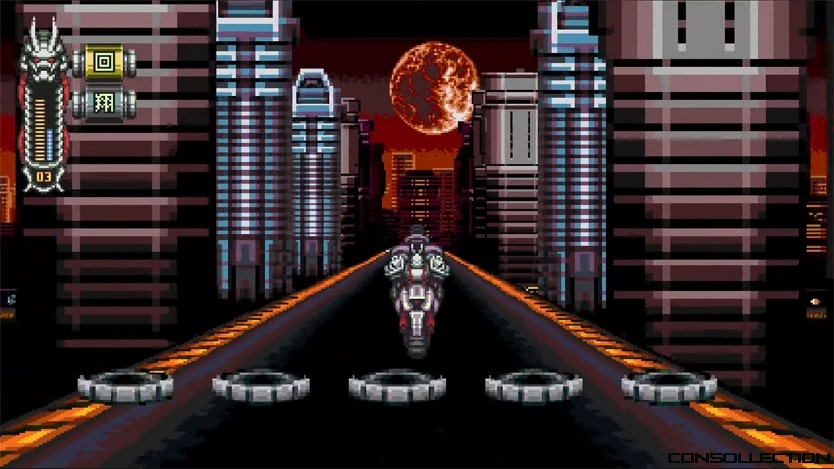 Along with your base moveset, you'll also gain new abilities as you progress. These can be obtained by defeating bosses and collecting modifier tokens hidden in levels. These grant skills like double jump, but also provide more passive buffs such as enhanced armor and the ability to sense hidden areas in the environment. You can only equip two modifier chips at a time, so choosing which one to use based on your situation is key to clearing levels in the fastest and most efficient way.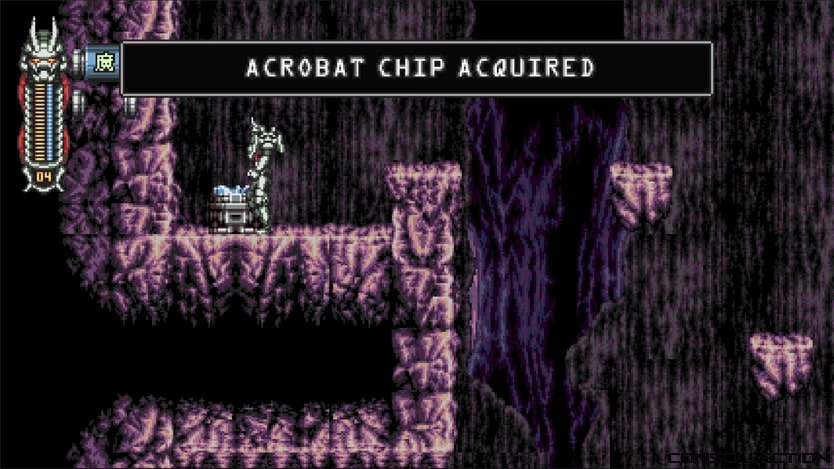 This panoply of items will be particularly useful to you, because the game is retro in its audiovisual design, but it is also with its small spikes in difficulty. You won't give a shit as in the heyday with titles as difficult as the most notorious of the Megadrive (child chameleon, Walker, Against the tough cops or else the harsh ignominy Ecco the dolphin), but it's spicy enough to make your tongue tingle, especially if you're not too familiar with Run and Sword. But the difficulty curve isn't monstrous, levels aren't randomly generated, you'll get to know enemy spawns, traps, boss patterns, and a little patience with a good dose of reflexes will make you see the end of the game without having to buy a wig and tear your hair out. And if there are a few moments when you die a bit in a loop, the level design is sufficiently ingenious and renewed for you to want, despite the difficulties, to go to the end of this adventure.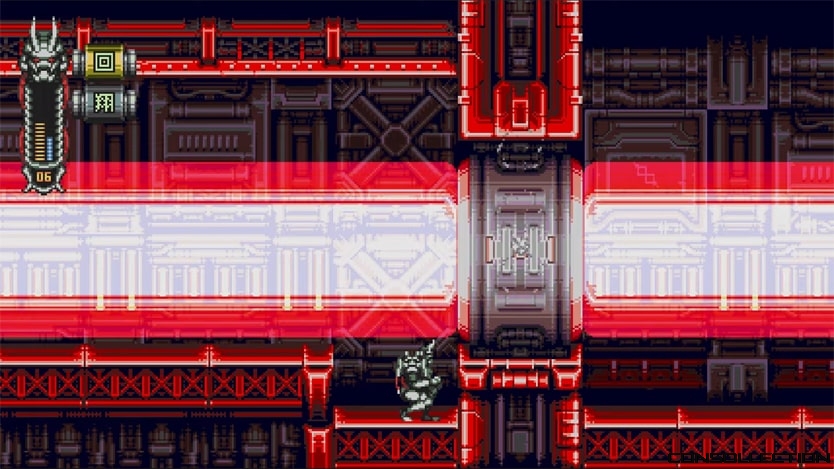 Especially since the game is not that long. A game of Vengeful Guardian: Moonrider will probably take you around 3-4 hoursdepending on your will to search for optional items and hidden areas. With the ability to replay each mission, however, there is an opportunity for you to put effort into improving your rank and time.
The potential for speedruns is palpable, and I can't wait to see what kind of insane feats players can pull off in the months to come. That said, if you're the type of person who only plays a game once and moves on, at least you've been warned that this game has a rather short lifespan, which is sometimes a plus for those who wants to finish their game, but lack the time to play it.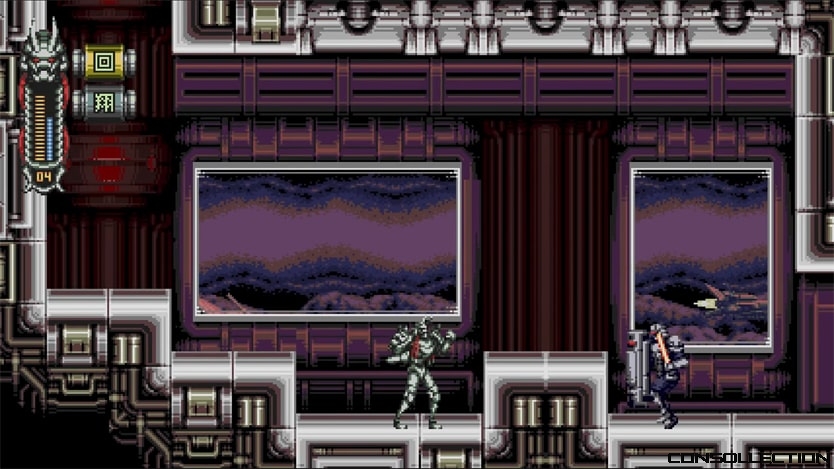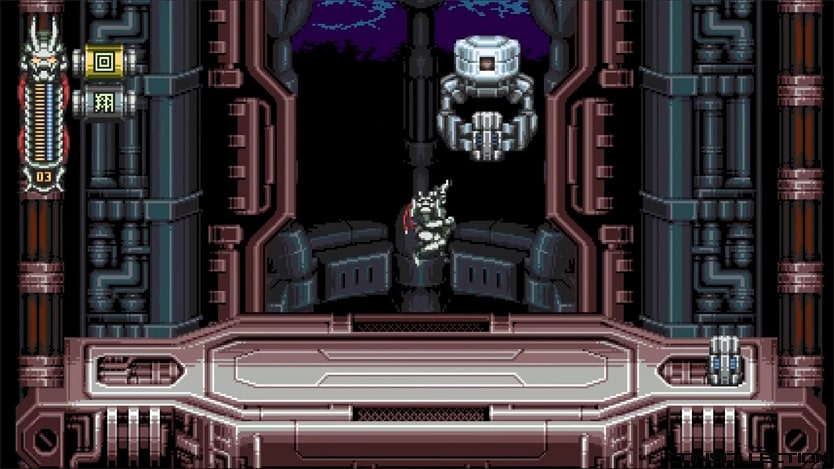 Graphics
18/20
In terms of visuals, Vengeful Guardian: Moonrider is absolutely breathtaking. The 16-bit pixel art style here is reminiscent of classic side-scrolling games and has a timeless quality that I can't get enough of. There's plenty of visual variety, you'll come across cyberpunk cities, murky undersea passages and Matrix-like digital spaces. Everything is beautifully staged, although the motorbike sections don't have the same impact as the 2D environments, lacking in detail. However, the developers managed to implement a particularly successful cathode filter, aestheticwhich I used for my game (not for screens for better visibility), something I never do on filters.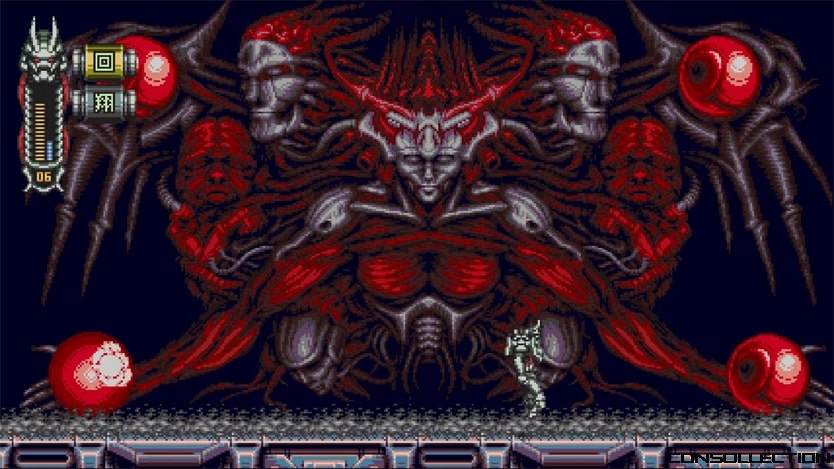 Soundtrack
17/20
The same level of care and attention has gone into the music and audio design as well. Each level features an 80s-inspired score filled with synth melodies and fast beats that will have your heart racing in no time. The sound effects are varied and effective, including the aggressive rustle of your sword, the anguished scream of your fallen enemies, and the comforting beep of health items. To stay true to the end, the voice acting is very limited, but each enemy boss gives a short statement with a synthetic voice in Japanese when you encounter them, giving each character an extra layer of depth and creating effective tension before every fight.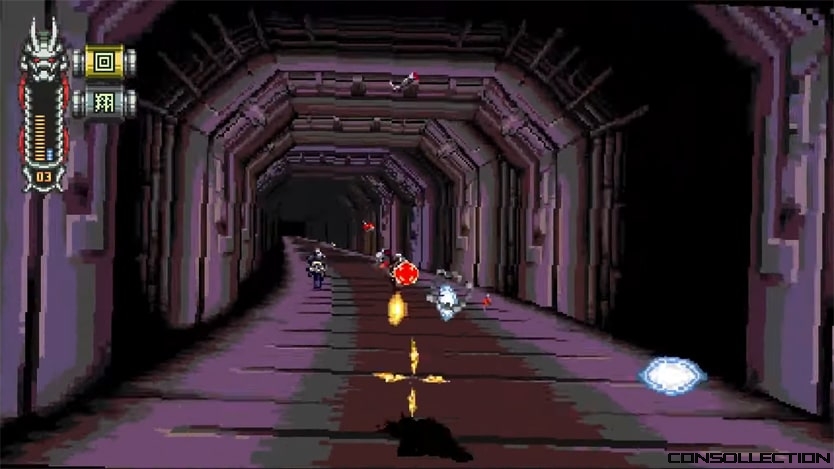 My opinion on Vengeful Guardian: Moonrider on PC
17/20
Vengeful Guardian: Moonrider is a success in this vein of games" neo-retro ". It offers fluid combat with a wide variety of environments and enemies as well as a magnified 90s art style. While its short overall length may be a bit of a black spot for some, those looking for an action title that's not only a edgy and balanced experience, but also feels like an authentically retro experience will be in for a treat. It's quite simply one of the coolest games to kick off 2023, and one of the best Run and Sword of the decade.
In summary
Highlights of Vengeful Guardian: Moonrider
– Smooth and cool ninja battles

– A nervous atmosphere both in terms of sound and visuals

– A retro type of game with just the right amount of modernity
Vengeful Guardian: Moonrider Weaknesses
– A sand court

– Dispensable motorcycle scenes.
Vengeful Guardian: Moonrider game trailer
#Moonrider #Run #Sword #decade