Motorola ThinkPhone, a smartphone inspired by Lenovo ThinkPad PCs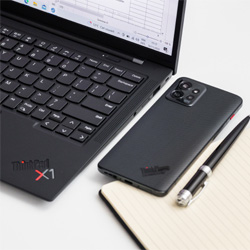 Lenovo has just teamed up with Motorola to launch the ThinkPhone, which is the first smartphone in the Chinese company's professional range. This smartphone is largely inspired by professional computers from Lenovo. This new smartphone integrates with a ThinkPad, such as the latest ThinkPad X1 Carbon Gen 11.
With the ThinkPhone, users have access to a full suite of security and support features that provide comprehensive protection and management backed by ThinkShield, the brand's portfolio of digital security solutions.
IT departments can be assured that their company's devices are protected by hardware-based security and artificial intelligence solutions, such as Moto Threat Defense. Additionally, enterprises can deploy ThinkPhones to users with Zero Touch and manage their entire fleet with device management solutions such as Moto OEMConfig and Moto Device Manager.
Along with this new business smartphone, Motorola is also making available Moto Secure, an app that serves as a hub for security and privacy-related items.
In combination with Moto OEMConfig or Moto Device Manager, IT admins can remotely configure Moto Secure features on ThinkPhones, from lock screen settings to network alerts to PIN scrambling.
The ThinkPhone comes with Moto KeySafe, a separate processor running Android, which adds an extra layer of security. It isolates PIN codes, passwords and cryptographic keys, storing them in an environment, which protects the data.
Optimized performance
In addition to these safety features, this device is MIL-STD 810H1 certified, features lightweight aramid fiber that is stronger than steel, an aluminum frame, and Gorilla Glass Victus, so it easily withstands shocks and falls up to 1.25 meters.
In addition, thanks to the IP68 certification, the ThinkPhone is able to withstand dust and immersion in water up to 1.5 meters deep for 30 minutes. The smartphone also features the iconic and customizable red button, arranged on the side, which provides immediate access to the most important business applications or instantly integrates mobile and PC experiences.
This smartphone features Think 2 Think connectivity powered by Ready For 3, a set of productivity experiences that allows users to enjoy seamless integration between the ThinkPhone and a ThinkPad, but also with other PCs running Windows 10 or 11. At launch, the ThinkPhone will come with Microsoft 365, Outlook, and Teams mobile apps preloaded, making them easy to get started with. In addition, users will be able to access the content and tools they need, modify or create new documents, use intuitive functions that will allow them to scan a PDF with the camera or dictate a document with their voice.
Motorola and Microsoft are also working together to deliver additional experiences, including the addition of push-to-talk capabilities via the iconic red button, allowing instant communication on the Walkie Talkie app via Microsoft Teams.
In terms of features
To ensure that the workflow remains optimal over the years, this smartphone is equipped with the Snapdragon 8+ Gen 1 mobile platform. In addition, the ThinkPhone is equipped with 5G technology and Wi-Fi 6E compatibility, thus releasing all the power of the new 6GHz Wi-Fi standard which guarantees the fastest Internet speeds of the moment.
The ThinkPhone, equipped with a maximum of 8 GB of random access memory (RAM) and 256 GB of storage. Its OLED FHD+ screen is 6.6 inches with a refresh rate of 144 Hz.
The battery lasts for over 36 hours. The Thinkphone comes with a 68W TurboPower Universal Charger. This lightweight and powerful pocket charger is capable of powering a laptop or other USB-C device.
To top it all off, Motorola has integrated a 50 MP Ultra Pixel camera.
Availablity
ThinkPhone by Motorola will be available at the end of January 2023, at the recommended retail price of €999 including VAT.


#Motorola #ThinkPhone #smartphone #inspired #Lenovo #ThinkPad #PCs