Multiple sclerosis: the benefits of rehabilitation
The symptoms of multiple sclerosis are diverse and debilitating. To limit their impact, physical and cognitive rehabilitation can relieve patients and improve their quality of life. Reportage.
Sibyl of Barthez
Written on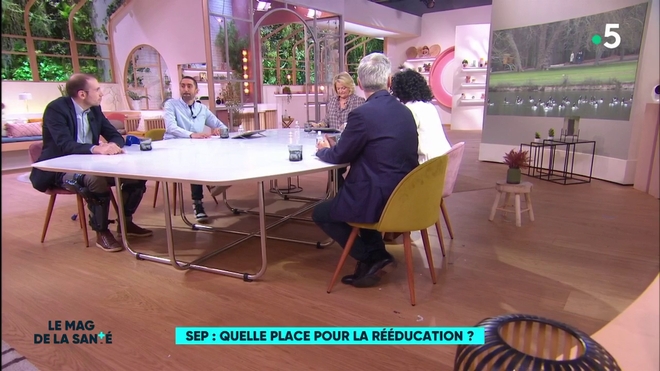 Every day, Valérie, 37, takes advantage of her lunch break to go for a half-hour walk with her colleagues. It is an almost essential routine for this young woman who has lived for seven years with multiple sclerosis.
"Neurologists didn't know what to do anymore"
Now a part-time executive assistant, she had just started her business when the symptoms appeared. "It was a bit violent for me because I was suddenly very tired, lost my balance and I started seeing badly in my left eye" says Valerie."When I went to see a friend and started talking to her, she told me there was a problem, she immediately took me to the hospital"she continues.
While the diagnosis is made quickly, doctors struggle to find the right treatment for Valerie. She is going through difficult months: "I had 12 or 13 flare-ups in two and a half years, even the neurologists didn't know what to do with me. Morally, I fell very low, I no longer had a goal."
Combine background treatment and rehabilitation
His treatment at Gonesse hospital in April 2022 put an end to his discomfort. The doctors offer him appropriate treatment, accompanied by physical and cognitive rehabilitation sessions.
"What prevents relapses is the basic treatment of multiple sclerosis" explains Dr. Eric Manchon, neurologist at the Gonesse hospital center."The goal of disease-modifying therapy is to stabilize the disease. Rehabilitation is there to improve the daily lives of patients"he continues.
In November 2022, Valérie spent five weeks in a day hospital to undergo intensive rehabilitation. With the program in particular, sessions of neuropsychology.
Work on balance, reduce cognitive disorders…
For example, Valérie must read a text and perform two tasks at the same time. This exercise is difficult and tiring for her, as it also requires a lot of cognitive resources."In the case of multiple sclerosis, there are cognitive, memory, concentration and reasoning disorders" explains Julie Altiok, neuropsychologist at the Gonesse hospital center."This rehabilitation serves to stimulate certain neuronal areas so that on a daily basis, these cognitive disorders are noticed a little less."
In multiple sclerosis, rehabilitation of motor disorders is also essential. With her physiotherapist, Valérie works on her balance.
The advantage of putting Valérie in difficulty is to be able to help her with all that is sensitive, at the level of the body, so that in everyday life, she can react more quickly and avoid a fall or an injury.
The objective of rehabilitation is that, upon discharge, the patient maintains this regular physical practice, which is essential to relieve his symptoms.
To not miss any health information, subscribe to our newsletter!
#Multiple #sclerosis #benefits #rehabilitation