Princess Charlene and her twins invite themselves into Prince Albert II's wishes for the first time
As every year, the Sovereign Prince Albert II of Monaco presented his wishes to the Monegasques for the New Year. A little surprise this year, for the very first time, Princess Charlene, Hereditary Prince Jacques and Princess Gabriella make an appearance at the end of the speech by the Monegasque Head of State to wish the population a happy new year 2023.
Read also: Princess Charlene celebrates the 10th anniversary of her foundation with Prince Albert II and Princess Stéphanie of Monaco
Prince Albert II's New Year's message and his wishes for 2023
On December 31, 2022, Prince Albert II of Monaco, 64, concluded the year by presenting his wishes for 2023. The Monegasque sovereign's annual speech is a tradition on New Year's Eve. This year is a first, Princess Charlene, 44, Hereditary Prince Jacques and Princess Gabriella, 8, presented their wishes verbally, inviting themselves into the message broadcast by the Prince's Palace.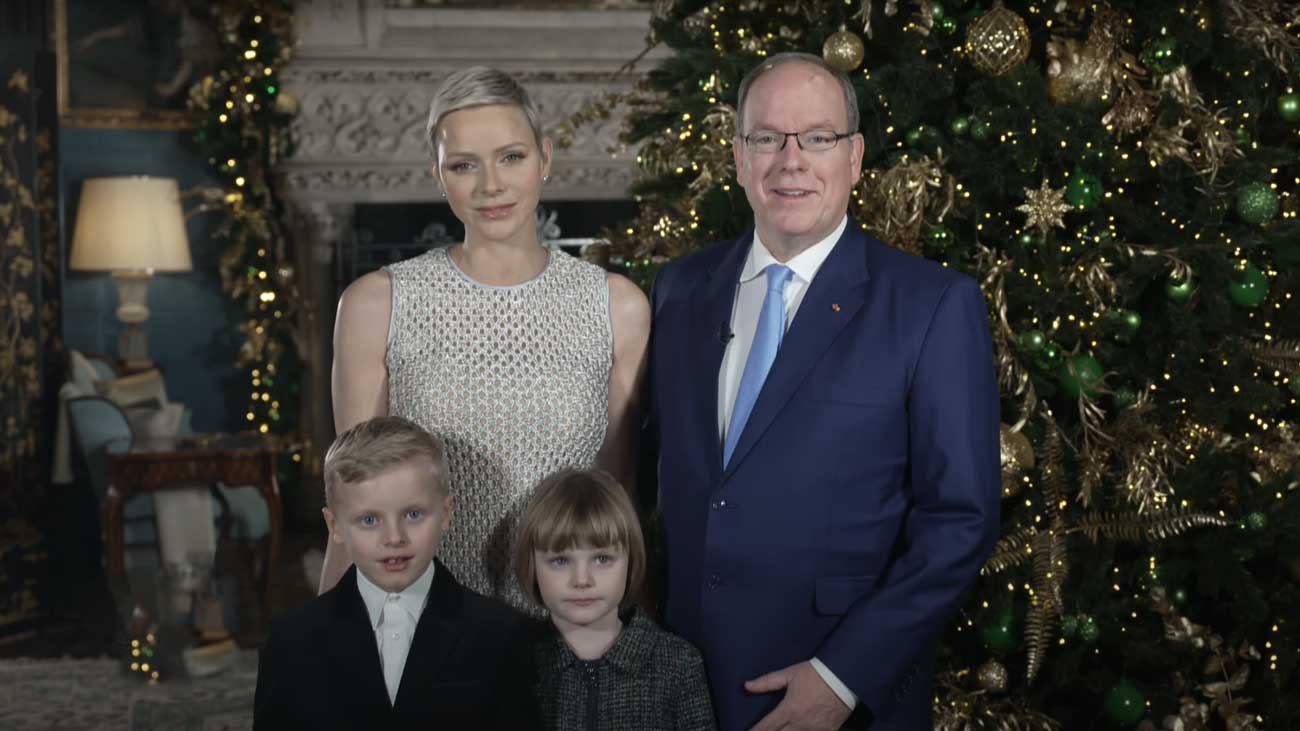 Read also: Jacques and Gabriella of Monaco distribute gifts to Monegasque children in a festive atmosphere
Prince Albert II, who recorded his New Year's message in front of his magnificent Christmas tree with green and gold decorations, recalled that 2022 was " a year of trials for all those who experience war, oppression, violence and intolerance in our tormented world. Also the princess and I wish to express to them here all our support, our compassion and our affection. All our thoughts are also with those who have suffered, in their entourage or in their flesh, from these diseases which remind us of the fragility of existence, but also, sometimes, of our capacity for resilience in the face of what hurts us. The long Covid-19 health crisis, the outcome of which we are beginning to see, will have lastingly tested us. ".
Read also: Jacques and Gabriella of Monaco celebrate their 8th birthday by taking care of turtles
Prince Albert then quoted Edmond Rostand: "It is at night that it is beautiful to believe in the light". Albert II adds: "It is in the early morning light, and perhaps more especially at Christmas time, that one sees the outstretched hands. This is why, in 2023, we will continue to reach out our hands, to mobilize and to put all our energy at the service of peace, acceptance of others and solidarity. ".
" Our children deserve that we think about and shape a reconciled and balanced world. A world respectful of nature. As well, be assured of my commitment to the preservation of our planet, in particular its biodiversity, both marine and terrestrial. We can also be satisfied with the new agreement reached a few days ago in Montreal at COP15 on biological diversity ".
" My deep conviction is that each of us can act according to our measure. We are all concerned. We are all capable. We hold a part of this collective power which alone allows us to change the world for the better ".
The year 2023 will be a year of elections in the Principality of Monaco, one of these "primordial moments for the balance of our institutions". Prince Albert II recalled that this year will also be the year of commemoration of the centenary of the birth of Prince Rainier III. The ruler referred to his father as "prince builder in many areas, who will have made Monaco a modern and dynamic constitutional monarchy, open to the world and active within the concert of nations ".
Prince Albert II then evoked the 30th anniversary of the Principality's accession to the United Nations, the anniversary of which will be celebrated this year. "I want to reiterate here all my attachment to multilateralism and respect for our international commitments. Our contemporary challenges are global and call for global responses: climate and energy crises, fight against terrorism, money laundering and corruption, fight against famines, gender equality, etc. »
"In this respect, our resolute commitment within the Council of Europe as well as in the ongoing discussions with a view to rapprochement with the European Union constitute decisive priorities for the future of our country. I know that I can count on the Monegasque community, our residents and our partners to pursue and reinvent our economic and social model. "Tomorrow" is not an empty word, but the horizon of a shared desire".
"My family joins me in sending you our warmest wishes for 2023"concludes Prince Albert II, who suddenly appears on the screen alongside his wife and twins. In unison, the Sovereign Prince, Princess Charlene, Hereditary Prince Jacques and Princess Gabriella wished a " Have a good year "in French, English and Monegasque.


#Princess #Charlene #twins #invite #Prince #Albert #IIs #wishes #time