Xbox Games with Gold: the "free" games of January 2023
Game News Xbox Games with Gold: the "free" games of January 2023
If you are not a subscriber to the famous Xbox Game Pass but you do have an Xbox, then perhaps you have subscribed to Xbox Live Gold, one of Microsoft's oldest formulas that allows you to play online. This also allows you to get your hands on games every month and here is precisely the new batch of January 2022.
The hours of 2022 are now numbered: tomorrow at midnight, we will all enter 2023 and we obviously hope that this new year will bring you a lot of happiness, success… and video games. At this level, Xbox players should once again do well since Xbox Game Pass continues to deliver tons of games each month, while Xbox Live Gold also perseveres with a handful of titles, "given away" every month as well.
For that of January 2023, we therefore have two titles to eat for a total value of 39.98 dollars. It's always taken and, without further ado, here they are.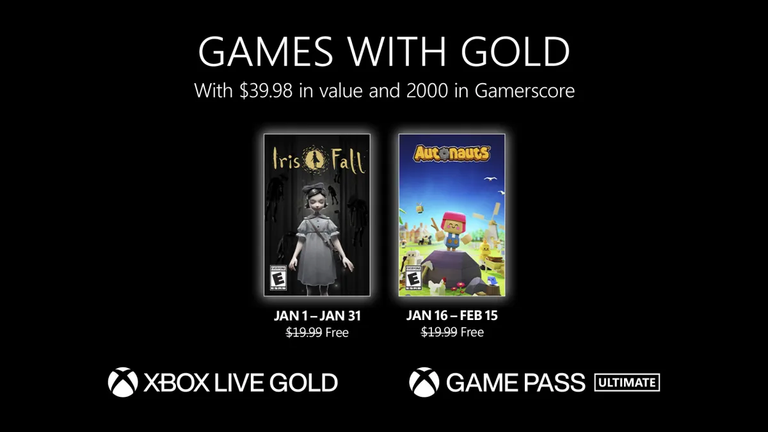 ---
Iris Fall (January 1-January 31)
This enigmatic and rather dark game was released in 2018 on PC, Xbox One, PS4 and Nintendo Switch. Iris Fall is developed by NEXT Studio and takes the form an adventure game with a Gothic aesthetic, punctuated by numerous puzzles to solve which will require playing with the environment, shadows and lights to progress. Its aesthetic in cel-shadding turns out to be quite particular (and frankly successful) and is clearly worth a look, so it is rather an interesting donation for this month of January.
---
Autonauts (January 16 – February 15)
First released on computer, this multiplayer sandbox with a rather cubic aesthetic (hello Minecraft, hello Roblox) is all about construction: here, the player disembarks from his ship to colonize random planets by collecting resources natural. We will first have to create somewhat rustic tools before developing real robots, before refining and optimizing them in order to found our own civilization. Autonauts only arrived last summer on home consoles, so somehow you can tell it's pretty new.
---
#Xbox #Games #Gold #free #games #January