You're not dreaming, the 2022 256 GB iPad Air with M1 chip is already losing €200!
Good deal news You're not dreaming, the 2022 256 GB iPad Air with M1 chip is already losing €200!
Christmas is already over, why is Amazon only now drawing such a crazy promotion? Seeing a recent Apple product sold for 20% off is extremely rare. The excellent 2022 iPad Air, with its powerful M1 chip and 256 GB of memory, is sold for €200 less on Amazon!
iPad Air 2022: price slashed by Amazon for the Apple tablet!
It is well known, promotions on Apple products are rare. And then, when there are, they are rarely strong, especially for a recent product. Amazon obviously decides to break this rule just after Christmas! The latest iPad Air, launched at €989, is now available at only €789 on the most famous online sales site!
Buy the iPad Air 2022 at 789€ on Amazon
Attention, the promo does not seem to apply in all colors! We therefore advise you to go with Space Gray (a dark gray close to black, like on MacBooks). Likewise, there's an active discount for the 64GB model, but it's not crazy. For little more, you can quadruple this ridiculous number in 2022.
iPad Air with M1 chip and 256 GB of memory… sometimes it's more useful than a computer
People tempted by an iPad surely already know the Apple eco-system. With the very intuitive iPadOS, you won't be lost: the iPad looks more or less like a big iPhone, only much more powerful. If you have a tech background, here's what you can find in the belly of the beast:
10.9-inch Liquid Retina display (2360 x 1640)
Apple M1 8-core chip
neural engine
USB-C connectivity
5G available as an option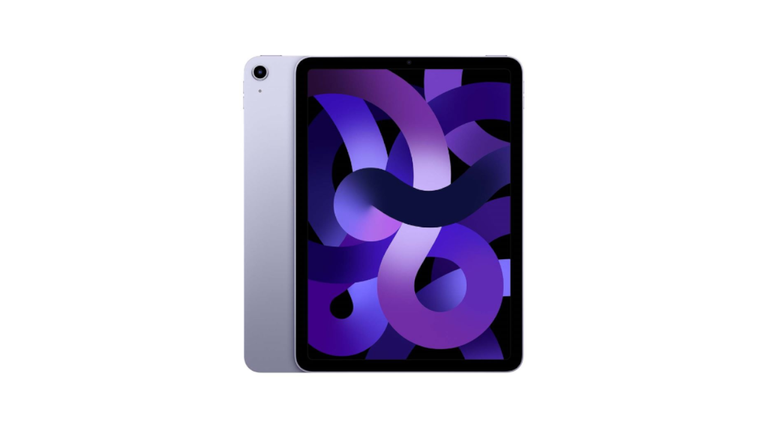 A tablet OK, but what for? The iPad is known to be a kind of hybrid between the Mac and the iPhone, it is an ultra versatile machine. To scroll, play or watch videos on your couch, the tool is much more comfortable than your phone. To draw (and generally work, the iPad can act as a graphics tablet. Applications like SketchUp, Procreate or uMake run at full speed) or write, the iPad Air acts as an ultra-light and practical portable PC. With its 461 grams on the scale, the iPad is considered by many students to be a better college companion than a large PC, for example.
Power level, the beast embeds the famous Apple M1 chip, which had already revolutionized the world of laptops. For a tablet, the 2022 iPad Air is just overkill. This machine is ultra smooth absolutely everywhere.
Another advantage of such a powerful chip: autonomy management. The battery is perhaps the most satisfying part of using the iPad for work. It lasts a whole day without any problem, and you will even still have a charge to play in the evening. Of course, none of the App Store's most demanding games are going to lag. Enjoy 3D games like Genshin Impact on the beautiful high-resolution Liquid Retina display!
Videoconferencing level is the top with a 12 Mpx ultra-wide-angle front camera. It automatically adjusts to keep you in the center of the picture.
It has Touch ID at the top button, to unlock quickly and securely.
The 2022 iPad Air is therefore surprising, and in many ways sometimes superior to a classic laptop PC. In addition, it is much cheaper than an ultraportable from the Apple brand, especially in big promotions like today.
Buy the iPad Air 2022 at 789€ on Amazon
This page contains affiliate links to some products that JV has selected for you. Each purchase you make by clicking on one of these links will not cost you more, but the e-merchant will pay us a commission. The prices indicated in the article are those offered by the merchant sites at the time of publication of the article and these prices are likely to vary at the sole discretion of the merchant site without JV being informed.
Learn more.
#Youre #dreaming #iPad #Air #chip #losing